This week's focus point –
Encouragement and Accountability.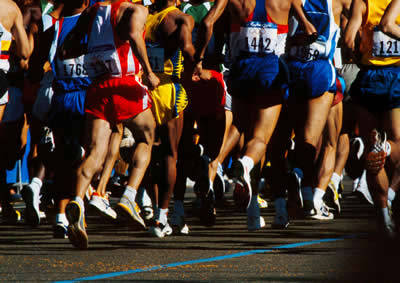 I recently bought a new pair of Nike running shoes to work in tandem with my new iPhone app, Nike + i Pod. It's a wonderful invention where my shoes (or at least the little sensor in the shoes) talks to my i Phone while I run, tracking miles, pace, and calories. I then download the information through i Tunes into the Nike web site and between the web site and my phone, keep a record of my training runs. For a guy who needs every motivation to run, its great accountability!
The last run I had on Friday, I was really on a great pace. I ran the farthest yet since I purchased the shoes (and frankly, longer than I can remember). At the end ot the workout, Lance Armstrong's voice came through my ear buds – "Hi, this is Lance Armstrong. Congratulations! That was your longest run yet!" Okay, a little hokey, but I liked it. For some reason, that small encouragement, gave me a boost of energy.
Accountability and encouragement help in all aspects of life – training, business, and family. In business, we are kidding ourselves if we think we can be brilliant by ourselves. We all need support; we all need someone to talk to; and we all need someone to hold us accountable, push us, and provide that small encouragement regularly to stay on track. We need that person who has "been there and done that" to guide us through our journey. That's why the most successful people in business all use coaches and mentors at some level. I've had several in my professional and personal life, and always will.
What about you?
This week's quote –"The 1 % Solution. If you improve 1% a day, in 70 days you'll be twice as good."
– Alan Weiss, my professional mentor and the Million Dollar Consultant